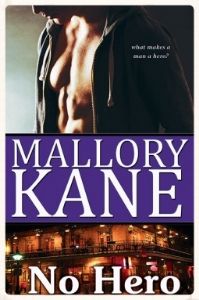 Title:
No Hero
Author:
Mallory Kane
Published:
August 20/14 by Tule Publishing (1st Published June 1/12)
Length:
209pgs
Format:
ecopy
Genre:
romantic suspense
Shelf:
netgalley
Rating:
★★★★
Synopsis from Goodreads:
Police Detective Devereux Gautier knows he's no hero. He's seen too much and failed too many times. Now the homeless kids he mentors are dying and the only person who can help him find the killer is the one woman who dug up his past to destroy him. Dev knows he can't solve the case alone, but how can he work with a woman he can't trust, and one who's so intelligent and sexy, he can't ignore?
Journalist Reghan Connor knows there are no heroes, and she's out to prove it on the air for all of New Orleans. Her latest debunked hero is Detective Dev Gautier, who hates her for exposing his mistakes. Now Reghan has been given the key to the murders of Dev's homeless teens, but how can she convince him she's not setting him up for another fall? As they work together to solve the murders, Reghan learns that being a hero is complicated and loving a hero can be downright deadly.
My Review:
Kane definitely had me guessing with this one. She has mystery and suspense down pat, leading you on a wild goose chase that you won't be able to forget. Not only is this novel suspenseful, but romance against the odds comes to the forefront in an unforgettable manner. I was rooting for these characters to overcome their obstacles. Kane also sets her story amongst the lives of those many of us endeavour to ignore in our everyday dealings. She brings to the forefront many aspects of society and many societal issues with tact and grace. She also makes you think long and hard about these, adding that extra kick to the story.
The characters in this novel were quite intriguing. Seeing them battle the odds, even when they don't always succeed brings the human predicament to light, at the same time it shows how everyone has some vulnerability. There were definitely times when the characters were a bit transparent and superficial, but it didn't detract from the story. It actually made one of them a bit more endearing.
Overall? This was a brilliant introduction to Kane's work. I will definitely be reading more of it in the future.