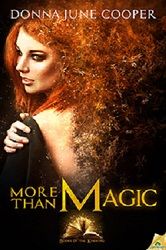 Title:
More Than Magic
Series:
Books of the Kindling #1
Author:
Donna June Cooper
Published:
February 4/14 by Samhain Publishing
Length:
386pgs
Format:
ecopy
Genre:
Paranormal romance
Shelf:
review
Rating:
★★★★
Synopsis from Goodreads:
"A malignant secret could turn her mountain sanctuary into their tomb."

DEA agent Nick McKenzie is sure magic exists - a dangerous drug called Smoky Mountain Magic that's wreaking havoc on the streets of Atlanta. He's also sure that locating and eliminating the source could mean his death.

When he arrives undercover on Woodruff Mountain, the beautiful owner's anxious attempts to scare him off tell him something's afoot, and it s not her secret patch of a rare, ancient species of ginseng.

As her dream of seeking medicinal plants in the Amazon fades into the distance, Grace Woodruff struggles to come to terms with an inherited magical gift she didn't want, and searches desperately for the meaning behind her late grandfather's final, cryptic message.

The last thing she needs underfoot is a handsome, enigmatic writer recovering from a recent illness. Until an accidental touch unleashes a stunning mystical force and Grace senses the wrath of a malicious blight at the heart of the mountain. Now she must choose between her need to hide her gift from the world and her desire to save Nick s life.

Warning: This book contains a fiery redhead whose magic cannot be contained and a handsome DEA agent whose final case might give him a second chance at life.

My Review:

I love how Cooper takes the well-developed premise of magic and makes it her own. She also writes a story that could quite feasibly be happening in the neighbourhood next to yours today. The realism and possibilities that she presents makes the story so tantalizing. And the story doesn't just stop at that. Cooper incorporates history, mythology, geology, and a host of other topics to deepen the reality of the story. I also appreciate how Cooper doesn't talk down to her audience, nor does she target a specific age range. It's one of those stories that everyone will come to love.

The characters that Cooper develops for her audience are phenomenal. They are real and approachable with a hint of mystery and magic (of course). The real & raw manner in which they are developed allows readers an insight into the story and its background. It also allows you to get up close and personal with the action.

Overall, this was a great introduction to the Books of Kindling series. I'd recommend it to others and will be avidly following the series myself.
And now, enter to win with author Donna June Cooper!
1st prize – Firefly Necklace and Earrings (FireflyNecklaceandEarrings.jpg) or $15 Amazon GC plus copies of both ebooks
2nd prize – Firefly Necklace (AquaFireflyNecklace.jpg) or $5 Amazon GC plus copies of both ebooks
3rd prize – Copies of both ebooks
Giveaway is open to Internationally (where applicable by law)
Entries are open from now until 11:59pm EST Oct 8/14.
Winners will be drawn & notified via email on Oct 9/14.
Winners will have 72hrs to claim their prize or another winner will be drawn.