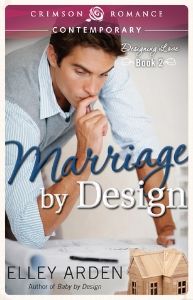 Title:
Marriage By Design
Series:
Designing Love #2
Author:
Elley Arden
Published:
Aug 11/14 by Crimson Romance
Length:
187pgs
Format:
ecopy
Genre:
contemporary romance
Shelf:
review
Rating:
★★★★★
Synopsis from Goodreads:
Family first. That motto has ruled Angie Corcarelli's life since she took over her beloved late father's construction business. When she discovers a new highway project will destroy the homes he once helped build, she'll fight passionately to protect his legacy—even if it means battling her best friend's stuffy and infuriating ex.
Stuart Perrault also knows a thing or two about family allegiance. For the past fifteen years, he's worked hard for his family's engineering firm, waiting for the day he'd be named CEO. But a recent botched project has shaken his father's faith in him. The last thing he needs now is a loose cannon like Angie interfering with the new highway plans.
When Stuart's father insists he wine and dine Angie to change her mind, he reluctantly obliges, but soon wonders if he's bitten off more than he can chew. The fiery carpenter isn't as irrational as he expected, and she has a knack for making his strident self-control unravel.
The more time Angie spends with Stuart, the harder it is to see him as the cold, calculating guy she'd believed him to be. But falling for each other would mean disloyalty to their respective families. Are their feelings strong enough to warrant challenging their family ties?
My Review:
This novel is so hot that it sizzles. At the same time, Arden tells a very romantic tale that will keep you coming back for more. This novel has both substance and character. Work and romance combine in an atypical manner to create a fun yet intense novel that I couldn't put down for a second.
I quite enjoyed Angie in the first novel of this series, and she gets even better here. Paired with an unlikely, but perfect, male lead Arden creates a brilliant couple to focus her story one. I love that the story, although revolving around them, isn't solely about these two. Their families play key roles in this tale, making it about so much more than just two people. There is a member of the supporting cast that I immediately disliked. Don't get me wrong, he was well developed for his part, but as a person, I seriously disliked him. I found myself hoping that the main characters would see it too.
My final thoughts? I didn't think this series could get much better after the first novel. I was definitely wrong. Arden just keeps getting better and better. And don't you worry; this novel could easily be read as a standalone or as part of the Designing Love series.