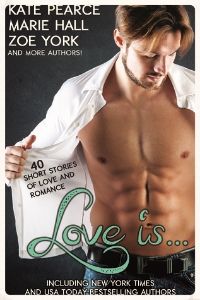 Title:
Love Is...
Series:
Araneae Nation 0.5
Author:
Various
Published:
Aug 5/14
Length:
40 short stories
Format:
ecopy
Genre:
romance
Shelf:
netgalley
Rating:
★★★
Synopsis from Goodreads:
Love is…
...forty stories of first loves, friends to lovers, and the heat of the moment. Join forty authors, including multiple New York Times and USA Today bestsellers, as they take you on a romantic ride through time and space.
From the dazzling ballrooms of Regency historical romance to contemporary love from sweet n' dreamy to kinky n' steamy, to the wide open frontier of science fiction romance and magical worlds of far away fantasy realms, sample the best that romance has to offer! Every short story is the perfect candy-sized nugget to read over a cup of coffee or before falling asleep at night.
My Review:
I found some of the stories to be brilliantly captivating, some I wish had never ended, and a few that I skimmed. That's to be expected when 40 different authors come together across so many sub-genres. I appreciated the fact that you were given the sub-genre & heat level for each story before beginning, allowing readers to pick and choose which to read & when based on their preferences. The stories themselves were well written and easy to follow. Everything was quite enjoyable and I found myself looking forward to the next story. I also found quite a few authors I want to delve more deeply into.
Overall? I'm not normally a fan of multi-author anthologies, but this one was quite enjoyable. It's perfect for a quick, bite sized read over a cup of tea, before bed, or just about any other time. There's something for lovers of every one of romance's sub-genres.