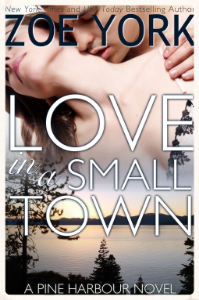 Title:
Love in a Small Town
Series:
Pine Harbour #1
Author:
Zoe York
Published:
Aug 26/14 by ZoYo Press
Length:
229pgs
Format:
ecopy
Genre:
contemporary romance
Shelf:
netgalley
Rating:
★★★★★
Synopsis from Goodreads:
Book #1 in the new Pine Harbour series from NYT and USA Today Bestselling Author Zoe York.
Six years. Two break ups. One divorce. They should be over each other.
Police officer and army reservist Rafe Minelli knows better than to tell his wife no, particularly since they aren't married anymore. She can't hightail it out of town, though, not when they've finally broken through the post-divorce cold war status quo.
Olivia Minelli needs to leave Pine Harbour. It's just too hard to see Rafe moving on without her—even if he says he doesn't want to. But when a new and exciting job falls into her lap, she needs to choose: protect her heart, or take the new job and risk getting emotionally entangled with her ex-husband. Again.
My Review:
This novel is sweet and heartfelt. I was completely enchanted with this look at life in rural Ontario. York tells an intriguing tale that brings together all the best of a new romance, with trying to rebuild what was lost. Her picturesque descriptions bring this small town to life in a very big way. She combines romance with hard fought realities in a manner that brings you directly into this oh-so-real relationship. At the same time the daily lives of the characters play directly into the story's well thought out plot.
The main characters in this novel were quite amazing. Not only are they well developed in the past and the present, but you can see the evolution of their characters throughout this novel. I loved how her characters wanted to stay who they are. They weren't willing to sacrifice who they intrinsically see themselves as being for their relationship. At the same time, they were quite willing to compromise, at least a little anyways. The combination of small town gossip with family feuds rounds out the interactions between the cast quite nicely.
My final thoughts? I laughed, I cried, I fell in love. What more can you ask for from a novel?