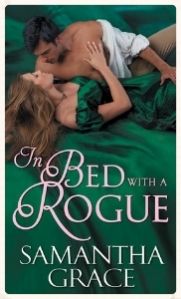 Title:
In Bed With A Rogue
Series:
Rival Rogues #2
Author:
Samantha Grace
Published:
Sept. 2/14 by Sourcebooks Casablanca
Length:
384pgs
Format:
ecopy
Genre:
historical romance
Shelf:
netgalley
Rating:
★★★★
Synopsis from Goodreads:
He's the Talk of the Town
The whole town is tittering about Baron Sebastian Thorne having been jilted at the altar. Every move he makes ends up in the gossip columns. Tired of being the butt of everyone's jokes, Sebastian vows to restore his family's reputation no matter what it takes.
She's the Toast of the Ton
Feted by the crème of society, the beautiful widow Lady Prestwick is a vision of all that is proper. But Helena is no angel, and when Sebastian uncovers her dark secret, he's quick to press his advantage. In order to keep her hard-won good name, Helen will have to make a deal with the devil. But she's got some tricks up her sleeves to keep this notorious rogue on his toes...
My Review:
What an interesting read. Grace had me captivated and guessing throughout. Societal rules complete with human emotions and a veil of secrecy to create a story that had me hooked. Grace also takes her readers firmly back to the regency era, with all of the rules and trimmings that go with it. It was an exciting, and comical trip back in time.
I loved the complexity of the characters in this novel. They were multidimensional entities who really packed a punch. I appreciate how they try to live within the bonds that society, and the ton especially, dictate for them while also trying to be true to themselves. The wide variety of individuals that we meet and actually get to know make you feel like you're participating in the season with them.
As a whole this was a romantic, intricate, and delightful tale that can easily be read as a standalone or as part of the series.