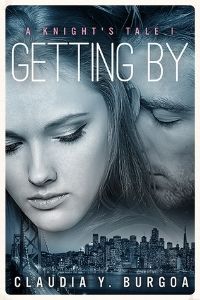 Title:
Getting By
Series:
A Knight's Tale #1
Author:
Claudia Y. Burgoa
Published:
February 18/14 by Literary Alpaca Illustrations
Length:
235pgs
Format:
ecopy
Genre:
contemporary romance
Shelf:
review
Rating:
★★★
Synopsis from Goodreads:
When Emma Anderson arrived at San Francisco International Airport, she regretted accepting the distinction of being the maid of honor to Gaby's—her childhood friend—wedding. It had been years since the last time she set foot in Menlo Park, where her parents had been killed. The rug where she had been shoving her feelings since that day looked bumpier than a camel's hump. Who could blame her; if she hadn't been selfish they'd still be around. Ever since that fateful day, Emma has been perfecting the knack of Getting By.
Cade's wedding in Menlo Park—a city close to San Francisco—might be the perfect place for Jake Knight to shake the memories of his ex, Emma Anderson for good. Single, available women galore for an entire week was the perfect medication, one he intended to take three times a day for an entire week to return to his player days. It was a plan the former spy thought flawless until he came face to face with the maid of honor. Jake's perfect retreat turns into a flight, fight or hide week of celebrations.
My Review:
I found the synopsis of this novel, as well as the storyline itself, to be rather intriguing. It is definitely different than many romances out there at the moment. There were a couple of times where the writing style didn't seem to mesh quite properly with the story at hand. There were rapid topic changes that had me flipping back and forth to try and figure out what had just happened. It wasn't a consistent thing, but it did pop up a few times, just enough to pop me out of the storyline at hand.
The extent of the losses and healing by the main characters really draws you to them. It's what makes the story what it is. You can easily relate to and feel for them, allowing you an inside peek at what's going on. The supporting cast was also quite well put together. They rounded out the story nicely, allowing you to feel like you were seeing a real relationship, set in the real world.
As a whole, this story was enjoyable but I found it difficult to stay fully immersed in it for long periods of time. It was definitely a unique tale.