Today y'all get to spend some time with the wonderful Katie O'Sullivan.
Enjoy your break from me and I'll see y'all in the am.
The Top 10 Reasons Why September is the Best Month on Cape Cod
Hi, Jonel, and thanks so much for inviting me to your blog! My latest book is MY KIND OF CRAZY, a contemporary romance set on Cape Cod – a resort location I'm very familiar with since I live here year round!
The best part about living on the Cape? Fall. While tourists flock to the Cape and Islands in July and August, September is actually the absolute best month to be on Cape Cod. Here are my top ten reasons for loving Fall:
1.
No more lines. While restaurants and theatres accommodate large summer crowds pretty easily, there's always a wait, whether for a table, to buy popcorn, or just to check out of a store. But once the summer people leave, no lines. Not even for movie premieres. Like, ever.
2.
The humidity is gone, but the sun and the ocean are still warm! Perfect weather for walking on the beach, fishing, sailing… all without working up the sweat. (Unless you want to!)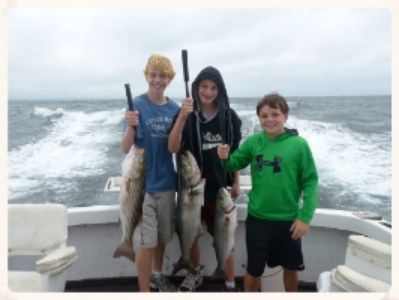 3.
Almost everything is still open. Yes, Cape Cod tends to roll up the sidewalks in the off season. But September is a "shoulder season," and all my favorite shops and restaurants are still open. And not crowded.
4.
Tons of festivals and happenings dot the calendar every weekend! From Eastham's Windmill Weekend to the Harwich Cranberry Festival to the new Live, Love, Local Fest in Hyannis there's something for everyone! And more fun festivals and fairs in October, too!
5.
The kids are back in school! I'm no longer a 24/7 chauffeur, referee, lifeguard, chef, dishwasher or bouncer but can actually have time to myself once in a while. And maybe work on that next book…
6.
Everyone else's kids are back in school! So they are no longer being unhappily dragged along on errands with their own moms. (Awesome.)
7. It's easy to make left turns again. I spend my summers planning car trips that can be made either with all right hand turns or employing traffic lights. No such military precision is needed in the off-season.
8. The beaches and the walking trails are still breathtaking. Mother Nature still puts on a great show with beautiful sunsets, spectacular sunrises, and crisp, clear days whether the tourists are here or not.


9.
I can walk my dogs along miles of bike trails and not get cursed out even once. Like the heroine in my book, I have a Saint Bernard who enjoys getting into trouble. After a few run-ins with serious – and seriously irate – bicyclists, I've decided the dogs and I can wait until September. Especially my Saint Bernard.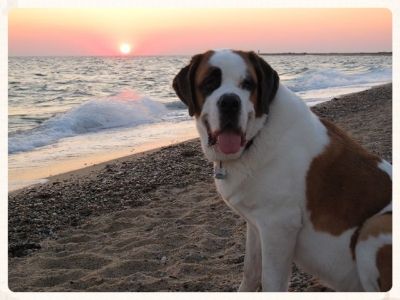 10.
Did I mention the kids are back in school? Time to write!
About MY KIND OF CRAZY:

Kendall Roarke is betting everything on making her Harwichport Bed & Breakfast into the premier wedding destination on Cape Cod, despite her recent messy divorce.

Jonathan Reynolds moved back to the Cape to take over his uncle's business and start fresh after his own marriage ended. He's not looking for anything complicated - until he meets Kendall, with her big plans and wild mop of curls.

Throw an unruly foster puppy and an uptight new neighbor into the mix and things get a little crazy. Now Kendall has to decide if it's the kind of crazy that she can live with... for the rest of her life.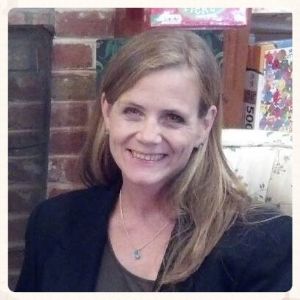 About the Author:
Katie O'Sullivan lives with her family and big dogs next to the ocean on Cape Cod, drinking way too much coffee and inventing new excuses not to dust. A recovering English major, she earned her degree at Colgate University and writes romance and adventure for young adults and the young at heart.
Living next to the Atlantic influences everything she writes. Her YA mermaid series begins in Nantucket Sound with SON OF A MERMAID, and continues the undersea adventures with BLOOD OF A MERMAID, both from Crescent Moon Press. Her latest contemporary romance from The Wild Rose Press is MY KIND OF CRAZY, a Cape Cod story of second chances and starting over.
And before you go, don't forget to enter the giveaway for one signed paperback of My Kind Of Crazy by Katie O'Sullivan.
Giveaway is open to residents of Canada & the US (where applicable by law)
Entries are open from now until 11:59pm EST Sept 23/14.
Winners will be drawn Sept 24/14.
Winners will have 72hrs to claim their prize or another winner will be drawn.