For this morning I'm handing things over to Dale Ibitz, author of
Kiss Me Dead,
and one of her characters. Enjoy yourselves!
"Embrace your inner weirdness."
That's something my best friend Abby's mom has been saying for as long as I can remember. When we were kids, this advice gave us free rein to be total dorks and run around with underwear on our heads. As an artist her mom's unique, like you never know what color her hair's going to be from week to week (personally, I like the magenta). But as you get older, it's harder to embrace your inner weirdness. In school you want to blend in, fit in, or just go totally unnoticed.
Abby continues to embrace her inner weirdness with her dyed black hair and her tendency for goth clothes, who believes in spirits and ghosts and the supernatural…though I think she's addicted to body piercings. Oh, wait. You're probably wondering who
I
am. My name's Brooke, I'm a 19 year-old college student, and I'm a hider, though at 5'11" it's a little hard to hide. But that's because my inner weirdness extends beyond fashion choices and dyed hair. You see, I've been seeing reapers ever since I turned 14. Saw one kill my brother, in fact.
How's that for weird?
There's this whole
world
of weirdness that no one knows about: the Other World where the Goddess of Death reigns, reapers, angels, and rogue reapers who steal souls. That's where my inner weirdness kicks in, because I can see it all. Me. Just me. So it's up to me to stop these rogue reapers from killing people and sucking the souls out of them. A fact I've hid from for a long time.
And then something changed.
I met a couple of secucron, these half-human, half-reaper hybrids. They descended upon my world with their own brand of inner weirdness, and though totally boss in the looks department, they were total dicks in the attitude department. And then the inconceivable happened.
I fell for one of them, and he fell for me.
And when he's not embracing my inner weirdness, he's embracing me. (wink) Our inner weirds mesh in a totally delicious way.
So if you have some inner weirdness—a funky style, colored hair, or supernatural abilities—embrace it! You're not alone. Embracing your inner weirdness means accepting yourself for who you are, and someday you'll find someone to share it with, just like I did.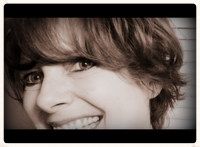 A little about Dale Ibitz...

I was born in Oxford, Connecticut, grew up in the state of Washington, and then re-located back to Connecticut as an adult. Always a lover of books, I spent much of my childhood reading, visiting the library (my best friend's mother was a librarian), and writing. I studied English at Central Connecticut State University, and while I hold a full-time day job, I've been writing for seventeen years.

I'm a fan of hiking and the outdoors, seriously good writing, and I never, ever starts the day without chocolate and coffee (preferably together). Music inspires me, and I like to listen to alternative metal. When I listens to lyrics, I find myself imagining stories behind the words…it's a great writing exercise.

I am, by nature, a klutz and have years of funny tidbits of real-life comical events which I constantly seem to stumble in to. These tidbits have a habit of finding their way on to the pages of the books I write, injecting a little humor to my writing.

If you were to visit my house, you'd meet my husband, 2 kids, our dog Lea (most people simply refer to her as The Beast...and for good reason), our cat Luna (affectionately known as Loony Luna), and a couple of parakeets that see no point in keeping quiet during the day.


And now, enter to win 1 of 5 ecopies of Kiss Me Dead by Dale Ibitz.
This giveaway is open internationally.
Individuals can enter online anytime between now and 11:59pm EST Sept 9/14.
Winners will have 72h to claim their prize or another will be drawn.