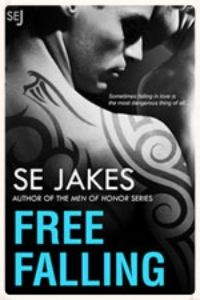 Title:
Free Falling
Series:
Extreme Escapes, Ltd
Author:
S.E. Jakes
Published:
December 15/12 by SEJ
Length:
150pgs
Format:
paperback
Genre:
m/m romantic suspense
Shelf:
gift
Rating:
★★★★★
Synopsis from Goodreads:
Sometimes falling in love is the most dangerous thing of all...
Blue's a thief who lives for adrenaline and danger. When he meets Mick, a mercenary and a hitter, he feels an immediate attraction. But Mick reneges on a bet they've made, leaving Blue pissed and confused.
When they meet again a year later, Blue's in terrible danger after having walked into the middle of one of Mick's jobs. Mick saves him, and although the two men have fallen for one another, they have no idea how to handle that kind of intimacy that's been forced on them.
But when Mick goes missing on a job, Blue's the one to go after him, determined to save the man he loves no matter the cost.
My Review:
Many say there is a fine line between lust and romance, love and hate. Jakes blurs those lines, showing you just how compatibly they all are and setting you on fire. This is a well put together, racy novel that will get your pulse racing. Jakes combines suspense with romance and all the troubles in between to create a seamless whole that you won't be able to put down.
The main characters in this novel are very unique. I loved seeing them come to life under Jakes`s pen. Such unique individuals coming together in a difficult yet rewarding manner was heart-warming. Their individual strengths & weaknesses together with their combined happiness counteract the bad that they must live through.
I devoured this novel in a single sitting. I fell completely in love with the characters and the world that Jakes' has developed.