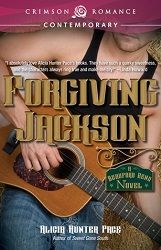 Title:
Forgiving Jackson
Series:
Brothers of Beauford Bend
Author:
Alicia Hunter Pace
Published:
September 15/14 by Crimson Romance
Length:
338pgs
Format:
ecopy
Genre:
contemporary romance
Shelf:
review
Rating:
★★★★
Synopsis from Goodreads:
Coming home to Beauford Bend opens up old wounds for four sexy, successful brothers, but the love of a few good Southern women will heal their hearts and change their lives forever.
Country music heartthrob Jackson Beauford isn't used to hearing "no" for an answer. When a tragic fire at one of his concerts stirs memories of the blaze that claimed his family years ago, all he wants is to go back to his childhood home in Tennessee and wallow in his grief. But he arrives home to chaos … and a Southern magnolia with her heels dug in.
After suffering a vicious attack in New York City, Emory Lowell returned to Beauford Bend, a place she's loved since she was a teenager. Now in charge of Around the Bend Elegant Events, she's not about to let a spoiled superstar take away her livelihood. The boutique artisan town of Beauford depends on this business, and so does she. With its high walls and around-the- clock security, Beauford Bend is the only place she's ever truly felt safe.
Jackson insists she close down his late aunt's business and leave him in peace, but quiet Emory refuses to budge, knowing this is a battle worth fighting. As a passionate attraction flares between these two wounded souls, they discover there's much more at stake here than business. Jackson may be just the person to help Emory face her past, and if she can help him learn to forgive himself, their love might be the key to turning Beauford Bend back into a real home.
My Review:
This novel was intensely emotional and exceptionally entertaining. It`s not very often that a novel can make you laugh & cry in quick succession. Pace builds the world of Beauford Bend slowly and with feeling. She paints a brilliant yet elegant picture that you can`t help but imagine. This is the backdrop for this intriguing story that is about so much more than simply romance, but don`t worry, that`s there in spades as well.
The larger than life cast of this story really brings the story home. You can`t help but love them. You also feel for them. Both of the main characters have gone through hell and come back stronger than they were before. Watching them struggle against what they believe they`ve done, to try to stand on their own but to come together anyways was absolutely breathtaking.
Overall, this was an emotional and heartfelt story that kept my attention throughout. I wouldn`t hesitate to recommend it to others.