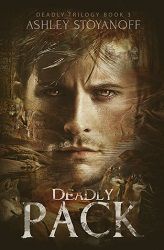 Title:
Deadly Pack
Series:
Deadly Trilogy #3
Author:
Ashley Stoyanoff
Published:
Sept 27/14 by Ashley Stoyanoff Books
Length:
194pgs
Format:
ecopy
Genre:
NA Paranormal Romance
Shelf:
review
Rating:
★★★★★
Synopsis from Goodreads:
Since becoming the alpha female of the Dog Mountain pack, Jade certainly has had her share of challenges. She's had to prove herself to a bunch of werewolves that she spent years hating; forgive her mate who'd done nothing but lie to her, and face the grueling fact that her father leads a pack of werecougars, who are responsible for tormenting her werewolves for many years.
On the upside, the Dog Mountain pack is finally coming together—now that Jade and Aidan's mate status is official. And now that they know where her father's been hiding his nasty pack of beasts, Jade and Aidan can concentrate on stopping them once and for all.
But when Jade's dad finds out that she's become Aidan's official mate, all hell breaks loose, and Jade and Aidan soon learn that his plans for their werewolves are bigger than anyone could have ever suspected.
My Review:
What a phenomenal ending to this series! Stoyanoff takes you on a wild ride while wrapping everything up nicely. But don't you worry. She doesn't just wrap everything up in a nice, neat package and tie a bow on it. The realism that we've come to know her for, the essential element that makes her stories so plausible is still there with a vengeance, allowing you to fully enjoy this tale. The story was very action intensive. Readers get right down and dirty with the goings on of Dog Mountain. The story is excruciatingly suspenseful and emotional. Top this all off with Stoyanoff's graphically visual descriptions and you have a definite winner.
This story just gets beer when we come to the characters. Stoyanoff has painstakingly developed them throughout the series, allowing them to grow into themselves. They do continue to grow in this novel as well, becoming who they need to be to succeed and survive. At the same time they also begin working together much more closely. The interactions between the characters are so intimate that you feel like you're part of Dog Mountain too. They also highlight the key features of each of the characters.
This poignant ending to a fantastic series is a must read for anyone who enjoys shifters. I will warn you, however, that it picks up right where the previous one left off so you may want to read those first.