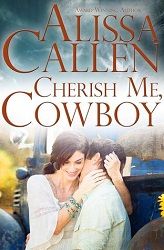 Title:
Cherish Me, Cowboy
Series:
Montana Born Rodeo #2
Author:
Alissa Callen
Published:
September 2/14 by Tule Publishing
Length:
130pgs
Format:
ecopy
Genre:
contemporary romance
Shelf:
netgalley
Rating:
★★★★
Synopsis from Goodreads:
Working cowgirl, Payton Hollis, has no time for hairdryers, heels and helplessness. She must save her home, Beargrass Hills Ranch. She also has no time for men. She already is boot-deep in blue-eyed cowboy trouble.
City-boy, Cordell Morgan, isn't who he seems. His fancy suit and slow smile hide dark secrets. Secrets as to why his hands are callused, why he never stays around and why he has really come to Marietta, Montana.
Between a shrewd old rancher, a cantankerous rodeo horse and a stud bull called Trouble, Payton and Cordell have no chance to lead separate lives. No matter how much their futures may depend upon them doing so.
Can a sassy cowgirl lower her guard for a man who will soon be gone? And can a man who believes emotions are nothing but a liability take the ultimate risk?
My Review:
This was a fast paced, hard hitting novella that I couldn't put down. Callen develops a captivating story amidst the trials of ranching and an ongoing rodeo weekend in such a way that you really feel like you're there. I found the story both touching and entertaining. There were a couple of times where the story shifted forwards in time rather unexpectedly.
I must admit I was a little nervous when I first met the main characters in this one. Fiercely independent cowgirl meets wildly secretive cowboy-cum-city boy. But Callen makes it work oh so well. The gradual development of the characters as they get to know one another and start working together is perfect. The mystery and darkness behind the male lead was quite catching. It really draws you to him, making you wonder just who he really is.
Overall, this is a fantastic, quick read that will take you on a ride you wouldn't first expect. I'd highly recommend it to romance and rodeo lovers alike.