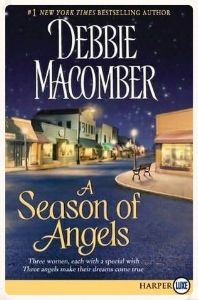 Title:
A Season of Angels
Series:
Angels Everywhere #1
Author:
Debbie Macomber
Published:
June 28/11 by Avon (1st published Dec 1993)
Length:
384pgs
Format:
ecopy
Genre:
contemporary romance
Shelf:
borrowed
Rating:
★★★★★
Synopsis from Goodreads:
A heartwarming story of love and joy from bestselling author Debbie Macomber. Three angels are each given a prayer request to answer during the four weeks before Christmas. But there's a catch: each angel must teach her charge a memorable lesson before the wish is granted.
My Review:
Christmas comes at any time of the year with Macomber's precious & comically adorable angels.
Macomber's calm and inviting tone draws you into this tale, but her breathtaking story keeps you there. She combines laughs with heartfelt moments in a manner that has you relating this story to your own life. She seamlessly weaves together the lives of three couples, along with 3 angels in a touching story that will make you both laugh and cry. I love the way she wraps up this story. The angels give us a sneak peek into the future of the couples. This brief yet heartfelt conclusion really draws you in.
As much as I enjoyed the three couples that we meet in this tale (and they were fantastic), you can't top the angels. I don't remember the last time I laughed so hard while reading a novel. Their shenanigans were priceless. You can't fault the fact that their hearts are always in the right place, even if their actions don't necessarily reflect that.
The melding of these three stories into one creates an incomparable tale that you won't soon be able to forget.