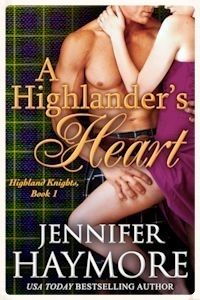 Title:
A Highlander's Heart
Series:
Highland Knights #1
Author:
Jennifer Haymore
Published:
Sept 1/14 by Jennifer Haymore
Length:
120pgs
Format:
ecopy
Genre:
historical romance
Shelf:
netgalley
Rating:
★★★★
Synopsis from Goodreads:
The last time Lady Claire Campbell saw her husband, she was furious...and for good reason. She told him she hated him and never wanted to lay eyes on him again. But now he's gone to fight a brutal battle against Napoleon and the French, and soon it may be too late for her to say she's sorry.
Major Sir Robert Campbell never expected to see his beautiful English wife ever again. So when an apparition in her form appears on the battlefield after the bloody conflict at Waterloo, he's sure she's an angel come to take him to heaven.
Claire remains at her injured husband's side, desperate to find a way to mend their broken marriage. But some wounds go deeper than blows Rob received on the battlefield. And some wounds can never be healed.
NOTE: This book was previously released in the SCANDALOUS SUMMER NIGHTS historical romance anthology.
My Review:
This novel is sweet, charming, and funny. Haymore draws you back in time and takes you on an adventure that keeps you wanting more. Her vividly gruesome depictions of Waterloo after the battle combined with the sorrow in the characters' pasts alongside the love they still share all combine in a heady mix that will have you racing through this story. I don't think I put it down once!
Considering the length of the tale, the characters are quite well developed. At the same time they are somewhat mysterious. You get to know them gradually as they come back together. Also, Haymore introduces us to many characters we'll encounter throughout what promised to be an exciting series. I quite enjoyed getting to know everyone.
My final thoughts on this one? I'll definitely be reading the rest of the series. Haymore has me hooked with this quick, sassy, and spicy read.