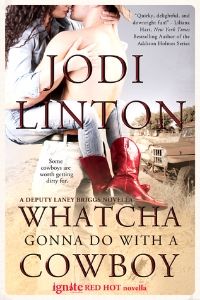 Title:
Whatcha Gonna Do With a Cowboy
Series:
Deputy Laney Briggs #2
Author:
Jodi Linton
Published:
Aug 18/14 by Entangled: Ignite
Length:
137pgs
Format:
ecopy
Genre:
contemporary romance
Shelf:
review
Rating:
★★★★
Synopsis from Goodreads:
Some cowboys are worth getting dirty for.
In her latest adventure, sassy Deputy Laney Briggs discovers the local high school football coach passed out under the stadium bleachers wearing nothing but a smile…and his wife's lingerie.
Things really start to get wild when she runs into the smoking hot Federal Marshal, Colt Larsen, snooping around the Granger's house. Quicker than a cold snap comes and goes in Texas, Laney finds herself up to her eyeballs in a case involving a ruthless motorcycle gang, a Mexican drug cartel, a kidnapping, and a shoot-out to rival the O.K. Corral.
In over their heads, Laney calls in the big guns—her very own Texas Ranger, Gunner Wilson, who's ready to fulfill every last one of her desires. But as things heat up between them, the stakes get higher than ever, and Gunner's help may not be enough for Laney to get out alive…
My Review:
Linton does it again with this one. She takes the world of rural law enforcement and makes it fun. Sure there is suspense and steamy romance, but overall this larger than life world is fun. Linton creates a wholly unique experience for her readers. This story is complete in and of itself, and keeps your heart pounding throughout.
I love getting to know these characters even more than we did in the first novel. I still find myself wondering why she's giving him a second change, and why he's giving her one too, but that's what makes these characters so great. They aren't perfect and they don't expect those around them to be either. I also enjoyed the new characters in this story. You can't help but get to know them and instinctively want to know them.
Overall this was a hot, quick, and immensely fun read. It's a brilliant addition to my library.