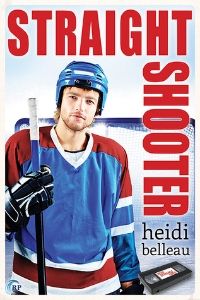 Title:
Straight Shooter
Series:
Rear Entrance Video #3
Author:
Heidi Belleau
Published:
April 7/14 by Riptide Publishing
Length:
275pgs
Format:
ecopy
Genre:
m/m romance
Shelf:
netgalley
Rating:
★★★★★
Synopsis from Goodreads:
This macho jock has a crooked little secret.
College hockey player Austin Puett is in trouble. Unless he starts treating his flamboyantly gay roommate with respect, he'll lose his room and his job at Rear Entrance Video. But Austin's got a not-so-straight secret of his own: nothing turns him on more than insults implying he's gay—even though he's definitely not!—and all his old coping methods have stopped working.
Pure desperation drives him to rent a Mischievous Pictures porn flick about straight men tricked into servicing Puck, a male dominant. Instead of letting off steam, though, it just leaves him craving more, more, more, and suddenly, Austin finds himself at Mischievous Pictures Studios for an audition. After all, you can be Gay For Pay and still be straight . . . right?
But meeting Liam Williams, the real person behind Puck, confuses Austin even more. Liam really seems to like him as a person, and Austin likes him back. And while Gay For Pay's okay, what does it make Austin if he still wants Liam when the cameras aren't rolling?
My Review:
This novel is very well and naturally written. It's got an easy flow to it that allows you to focus on the storyline at hand. It was artfully developed, allowing the reader to both picture exactly what was going on as well as allowing their imagination to run wild. Belleau definitely works some hard hitting aspects into this story. Sure, it's an entertaining hockey story on the surface, but the social commentary makes it so much more than that. The Canadian content in the story definitely made me smile as well. Belleau didn't just stick to major Canadian landmarks, but rather worked the real deal right into the story.
The main character's struggles with his beliefs vs who he is underneath really makes you take a hard look at him. You spend a great deal of time in his head, seeing the world from his perspective. It's quite enlightening, even shocking at times, but also makes him seem so approachable. His reactions to things had me laughing out loud more than once, while his enlightening journey kept me captivated.
Overall, this was a fantastic novel that I couldn't put down. I would suggest it to everyone who wants a fun filled novel complete with a social commentary that will grab at your heart.