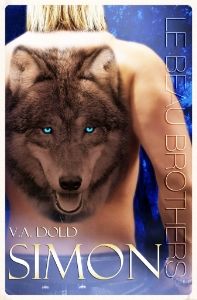 Series: LeBeau Brothers #2
Published: July 1/14 by Vickie Dold
Genre: paranormal romance
NOTE: Complete novel. No cliffhanger. Dual POV. Rated 18+ for language and strong sexual content.
Four years of honorably serving his country has left Simon, Cade's younger brother, damaged and trapped in wolf form. Little did he know the only person with the ability to heal him completelywould be found at home. Literally. Now that he's found her, he is desperate to claim her.
Rose is a beautiful, voluptuous woman with limited experience with men. Although she's confident, she still has reservations. Never having a family of her own,her fear of abandonment has her fleeing romantic relationships, and doubting herself.
Travis is insane. A deadly loose cannon that a secret organization hired to destroy the Le Beau family by denying them their mates. Permanently.
Simon's dream will be lost forever unless he is able to maintain human form.
Rose needs unconditional love and a mate to create the family she's always wanted.
Travis's all-consuming drive is to take Rose for himself.
Will Simon ever be whole again,able to claim his mate, giving Rose the love and family she so desperately craves? Or will Travis destroy them both?
Adult-content rating:
This book contains content considered unsuitable for young readers 17 and under, and which may be offensive to some readers of all ages.
My Review:
Dold actually broke my heart with this one. The events and emotions that wind their way through this story are not only captivating, but are also the type of events that one never wants to live, even if others do every day. Dold goes in depth as to what a shifter is and what he needs in this novel. You find out what it really means to be a wolf shifter as she adeptly makes this part of the storyline, always keeping with the fast forward pace of her well put together tale.
I love how Dold mixes crass & sass in with love and heartache the way you find them in real life. Her characters aren't always prim and proper. They combine the world as we know it with that supernatural element that we all wish we had. Dold's characters are a little off centre, but completely true to themselves and their loved ones. It's great to see a romance without your stereotypical character types. The female lead is slightly older & larger than the typical author would present, making her someone the rest of us can relate to. And the family that stands behind them is a hodgepodge mix of different personalities and eras. They all come together in a close knit fashion that allows the reader to feel like they're part of the story rather than simply a bystander.
I really enjoy the dialogue in this novel. Dold mixes modernity with times gone by in the ways that her characters speak. Their centuries of existence shine through, and you really get a feel for who they are simply based on how they talk (and think). This mixing of eras also shines through in the narrative. The inherent mixing that ensues allows the reader to really feel what the characters do, and experience life as they do.
As much as I enjoyed reading the first novel in this series, loved this one was even better. Dold is definitely an author to keep an eye on in the future.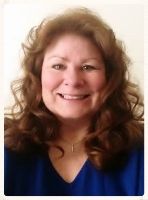 About the Author:
V.A.Dold is the bestselling author of the Le Beau Brothers series, New Orleans wolf shifter novels. A graduate of Saint Cloud University, she majored in marketing. Prior to becoming a full time writer, she was a publicist to the authors, owning Innovative Online Book Tours and ARC Author & Reader Con's (ARC NOLA) (ARC Phoenix). Still is. The companies mesh so well together, much like PB&J.
Her idea of absolute heaven is a day in the French Quarter filled with nothing but her computer, her coffee mug and the Brothers, of course.
A Minnesota native with her heart lost to Louisiana, she has a penchant for titillating tales featuring sexy men and strong women. When she's not writing, she's probably taking in a movie, reading or traveling.
Her earliest reading memories are from grade school. She had a major fixation with horses, and the Black Stallion was a favorite. Then junior high came along and teenage hormones kicked in. It became all about the Harlequin Romances. She has been hooked on romances ever since.