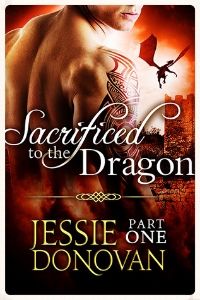 Title:
Sacrificed to the Dragon part 1
Series:
Stonefire Dragons #1
Author:
Jessie Donovan
Published:
July 14/14
Length:
48pgs
Format:
ecopy
Genre:
paranormal romance
Shelf:
review
Rating:
★★★★★

Synopsis from Goodreads:
In exchange for a vial of dragon's blood to save her brother's life, Melanie Hall offers herself up as a sacrifice to one of the British dragon-shifter clans. Being a sacrifice means signing a contract to live with the dragon-shifters for six months to try to conceive a child. Her assigned dragonman, however, is anything but easy. He's tall, broody, and alpha to the core. There's only one problem—he hates humans.
Due to human dragon hunters killing his mother, Tristan MacLeod despises humans. Unfortunately, his clan is in desperate need of offspring to repopulate their numbers and it's his turn to service a human female. Despite his plans to have sex with her and walk away, his inner dragon has other ideas. The curvy human female tempts his inner beast like no other.
My Review:
Donovan's done it again! She's held me completely captivated by her wonderful story. Suspense and loyalty play equal roles in this formidable tale, and draw the reader completely into the pages. Donovan builds this world in a manner that makes it easy to picture, she begins to develop the world of dragonshifters, drawing her readers further and further into the tale. Her characters not only capture your heart and imagination, but are also the type of individuals that you want to know. The fact that they sit on opposite sides of the fence just adds to the story. This was a wildly unique storyline that is unlike anything I've ever read.
My final thoughts? OMG! I'm in love! I've thoroughly enjoyed Donovan's work up until this point, but I'm definitely in love now. I honestly cannot wait for more!