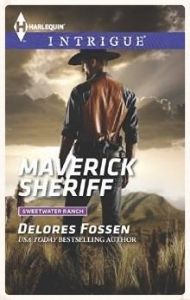 Title:
Maverick Sheriff
Series:
Sweetwater Ranch #1
Author:
Delores Fossen
Published:
Aug 19/14 by Harlequin
Length:
224pgs
Format:
ecopy
Genre:
romantic suspense
Shelf:
Netgalley
Rating:
★★★★
Synopsis from Goodreads:
Delores Fossen kicks off her new series, Sweetwater Ranch, with a Texas lawman, a beautiful district attorney and the child they'll risk everything to protect.
Saving a little boy's life reopens painful wounds for Texas sheriff Cooper McKinnon. This could be his son, whose loss has haunted him for two years. But Cooper has a formidable adversary in Jessa Wells. She's the adoptive mother and she'll do anything to hold on to Liam.
It's cruel justice that the man who shares Liam's rare blood type has an unsolved murder in his own family. And the danger's far from over. Fighting her desire for Cooper, Jessa has no choice but to join forces with the maverick cowboy. Jessa knows working together is their best shot at keeping the child safe. But it's the possibility of a future alone that breaks Jessa's heart.
My Review:
What a vivid story. Fossen takes you on a wild ride with a story unlike any other. Yes, I'll admit, there were times where the plot was somewhat predictable. As soon as you start reading this novel you know the basic gist of the ending. There`s really no other option. The route that Fossen takes to get there is delightfully suspenseful. I was on the edge of my seat trying to guess how it would all unwind. She also develops her story in an emotionally and intellectually stimulating manner. I had chills running down my spine at times, and found myself laughing at others. Not only that, but Fossen begins to develop the overarching plot for the series as a whole, drawing you in and leading you towards the next novel.
The cast of characters for this novel really drew me in. I loved the sheriff who wasn`t the perfect sheriff. He was oh-so-real and easy to understand. Combine that with a female lead who feels the need to prove herself in a male dominated world and you have quite the steamy collision of personalities. These two are surrounded by family throughout, some of which are only family by blood, others are family for the long haul. That distinction really makes you stop and think and adds a great deal to the story itself.
This was a thrilling story on its own and a great intro to Fossen's new series. I can't wait for the next instalment.