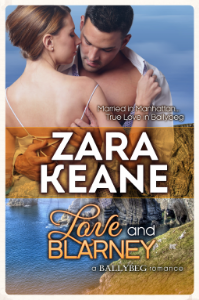 Title:
Love and Blarney
Series:
Ballybeg #2
Author:
Zara Keane
Published:
Aug 15/14 by Beaverstone Press LLC
Length:
104pgs
Format:
ecopy
Genre:
contemporary romance
Shelf:
netgalley
Rating:
★★★★★
Synopsis from Goodreads:
Married in Manhattan…

Ruairí MacCarthy abandoned his life in New York to deal with a family crisis in Ireland. Twelve mon
ths later, he's traded his three-piece suits and Wall Street career for jeans and a job managing his family's pub in Ballybeg. When his estranged wife bursts back into his life looking for reconciliation, Ruairí must decide if home is where the heart is.

…True Love in Ballybeg.

Jayme King wants Ruairí back. She's prepared to battle sheep, floods, and crazy Irish in-laws to get him. Discovering he lied about his past was a shock, but Jayme's had months come to terms with the betrayal. Letting Ruairí go was the biggest mistake of her life. Can she persuade him to return to America and give their marriage a second chance?
My Review:
Keane's vivid descriptions and exciting narrative made me feel like I was vacationing in Ireland alongside the characters. This is also a steamy story without being focussed on the bedroom. Keane's writing allows you to feel the tension between the main characters. She backs all of this up with a solid and entertaining storyline that I couldn't put down.
I loved getting to know the main characters in this tale. Although we've met Ruari before The sweetness and tenderness between the two main characters made the story for me. Although the relationship itself was on rocky footing, their commitment to one another definitely was not. The solidity of their belief in one another was reassuring and very welcome. It was also a natural relationship, without any doctoring. There were definitely fireworks between these characters, but they were the good kind. Getting to know Ruari's family was also great. They not only provided some intriguing counterpoints in the story, but also context to the relationship as a whole.
This is a brilliant, quick and refreshing read that can be read as either a standalone, or to further immerse yourself in the world of Ballybeg. I'd recommend it to all lovers of second chance romances.