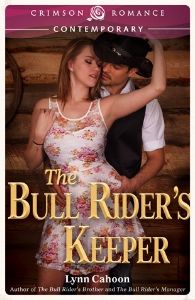 Title: The Bull Rider's Keeper
Series: Bull Rider #3
Author: Lynn Cahoun
Published: April 28/14 by Crimson Romance
Length: 153pgs
Format:

ecopy


Genre: contemporary romance
Shelf: review
Rating:
★★★★
Synopsis from Goodreads:
Jesse Sullivan isn't afraid of any thing, any man, or any bull. But when he decides to take a chance and carve out a life outside his rodeo career, he feels like he's walking on shaky ground. In typical Jesse style, he jumps at a chance to purchase Main Street Gallery, a Boise tradition in the art world.
Taylor DeMarco has two goals for the next year. Getting the gallery on sound financial ground to prove to her parents that she can keep her grandfather's legacy alive is the first one. Moving out of the house and into her own condo by the Boise River is the second. When she finds her folks are selling the gallery to Jesse, she vows to stop the sale, no holds barred.
When sparks fly between Jesse and Taylor, family gets in the way of reason, and they have to decide what is more important, their desires or keeping Main Street Gallery open and successful.
My Review:
What a completely captivating novel. Cahoon had me wrapped up in this story from the beginning to the end. It was easy to imagine the multiple locales that her characters visited. At the same time, there was so much more to this story than simply 2 individuals falling in love. Identity crisis, health issues, and family problems all make their mark in this quietly remarkable tale.
The characters in this novel are absolutely priceless. The mother had me in stitches throughout. And that doesn't even get me into the main characters. Cahoon has created some very brilliant & multi-faceted characters to carry her story forward. Not only does she develop her main couple as full, well rounded individuals, but they are also complex characters. One rarely sees characters like this in a romance. It really heightened the story for me.
Overall, this is a must read for all romance fans, whether you're a cowboy enthusiast or not. Cahoon balances the best of all worlds with this and will make your heart sing.