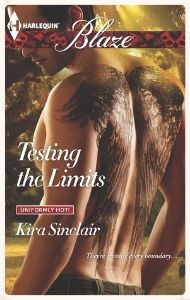 Title: Testing the Limits
Published: May 20/14 by Harlequin
Length: 224pgs
Format: ecopy
Wanting him was wrong, but it felt so right…
Social worker Quinn Keller sees the best in people…and the worst. When she rescues a prominent businessman's battered wife, Quinn is targeted by the woman's violent husband. Her only option is to place her safety in the hands of Ranger Jace Hyland—tattooed, scarred, incredibly hot…and the brother of Quinn's deceased fiancé. An entirely different kind of dangerous!
Quinn is the woman Jace has always wanted—and she's strictly hands-off. But keeping her safe means taking her to his small apartment…and his bed. So for one unforgettable night, Jace will give in to the temptation he can no longer resist. One night of forbidden hunger. One night he prays will be enough to satisfy a lifetime of longing….
Adult-content rating:
This book contains content considered unsuitable for young readers 17 and under, and which may be offensive to some readers of all ages.
My Review:
Sinclair takes a look at the rougher side of life, even if it is covered with a smooth veneer. She develops her story in a straightforward and approachable manner yet keeps you on the edge of your seat throughout. As a reader, you become fully invested in the story. The suspense, the heat, the honesty, they all combine to create a uniquely powerful tale that you won't be able to put down. Her descriptions and narrative lay the captivating story out before you in a very visual yet intrinsically approachable manner.
Sinclair creates the type of characters that you want to be. They are strong individuals who have been through the wringer but come out on top through sheer perseverance. They are also remarkably well developed individuals. I feel like I've actually met them. The supporting cast in this novel was quite unique. None of them were overly developed, but they were just as easy to be around as the main characters. I especially enjoyed the fact that one of the major players in this novel was a memory. It added an extra element to the story as a whole.
Overall, this was a very enjoyable read that I could barely put down. I would recommend it to anyone who enjoys racy romance with an edge of danger.