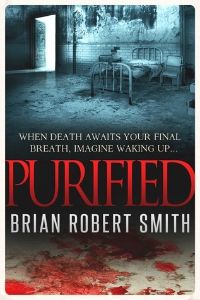 Author: Brian Robert Smith
Published: Nov 27/13 by 323 Publishing
"There's no use trying to escape. You're miles from anywhere. You have no clothes, no food, no money... You're dead, Mason."
As far as everyone else is concerned, Mason Bushing died over a year ago, but now he's running from Dr. Harlow who is secretly conducting an unauthorized experiment for a drug he calls Purify. It saved Mason's life, but Mason is focused on getting what he wants most—his old life back. His plans change when he realizes his wife is more interested in the insurance money she inherited than seeing him alive. His best friend doesn't believe his story, and the police intend on charging him with fraud and assault after he almost kills his wife's boyfriend.
Warren is a detective who's assigned the case. He's been on personal leave because his wife died. His investigation turns up suspicions of lying, disturbing coincidences, and related homicides.
When Mason becomes the prime suspect, he's forced to run again.
Imagine having to run from someone who saved your life. Imagine everyone thinking you're dead, but you're really alive. Questions, accusations, conspiracies… murder. What if this was all caused by a drug that's creating the next physical evolution of man? What would you do if you were Purified?
My Review:
This novel is terrifying in its possibilities. It chilled me to the core. I could actually see the realistic possibilities behind the story that Smith tells. And tell a story he does. What a thrill ride this was. It was also intrinsically well written. The storyline was solid & the editing well done. The grey overtones to the entire story keep you questioning what is, what isn't, and what should be. It was a rare experience, but one I would definitely repeat.
The main character in this novel was shockingly vivid. I couldn't help but ask myself what I would do if I were in his shoes. The better I got to know him, the more I wondered. I felt myself wanting to reach out to him. The rest of the cast was also quite well put together. The variety of characters along with their subtle yet important development leads to an all-star cast for this haunting novel.
As a whole this was a thrill ride that I'd recommend to those who enjoy suspense. Smith peaked my interest in him as a writer & to delve further into the genre in general.