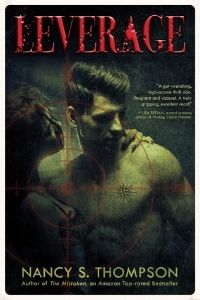 Author: Nancy S. Thompson
A dark romantic thriller intended for a mature audience.
* * * *
Four years ago, Tyler Karras' quest to avenge his wife's death led to all out war with San Francisco's Russian Mafia. With the Bratva's collapse and its king, Dmitri Chernov, long dead, all Ty wants now is to put it behind him and enjoy a second chance at life with his new bride, Hannah, and the child they're expecting any day.
But Chernov's heir, Grigory Dmitriev, has returned, bitter and determined. He wants his kingdom back, and he's more than willing to leverage Ty's new family to get it.
First he targets Conner, Ty's brooding nineteen-year-old stepson, manipulating the boy into a vortex of sex, drugs, alcohol, and gambling. Then he turns his sights on Hannah. At eight months pregnant, she's the ultimate bargaining chip. With both their lives in jeopardy, as well as his unborn child, Ty has little choice but to do as Grigory commands.
But Tyler swore he'd never kill again. He buried that monster four years ago and means to keep it that way. Grigory, however, makes that vow impossible to keep.
With his new family on the line, Ty will cross further into the dark side than he ever has before, challenging everything he believes about himself, and forcing him to face the ghosts of his past. Only then will Ty discover if he has the strength to do the unspeakable, to sacrifice his last chance at redemption and save the lives of those he loves most.
My Review:
Thompson has stepped it up a notch with this second novel in the series. The evolution, of both the storyline & the author, since the first novel in the series is very nice to see. Thompson's dark descriptions complement the very strong plot that she presents through this novel. Suspense abounds while the past revisits the present. This is the type of story that draws you forwards, making you find out what happens next. It is a unique read among a sea of thrillers.
The characters that Thompson brings forward in this novel definitely do justice to the story. The characters themselves have an intensity that mirrors the plot of the story. They are also well developed. You may not like or identify with everyone, but you definitely get to know them well enough to understand their means and motives.
For those who enjoy suspense in a well written package, this is the novel for you!