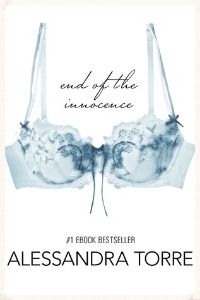 Title: End Of The Innocence
Genre: contemporary romance
He thought I owned him. He thought he loved me, that I was enough. But this animal, this sex god who could drive me crazy and steal my heart in the same breath, he would never fully be mine. It was impossible. No one ever owned a God…
One year. I have one year to find out more about this man I am marrying. More about his family. More about our sex, and all of the dirty, delicious places it will take me.
I thought I'd spend this year making a decision. I never thought the decision would be taken from me, snatched right from my naive little hands.
Adult-content rating:
This book contains content considered unsuitable for young readers 17 and under, and which may be offensive to some readers of all ages.
My Review:
This well written novel captured my imagination. Torre's voice meshes perfectly with the storyline, keeping you focused on what's happening and trying to guess what will happen next. Heat and suspense combine to create a uniquely racy read that I definitely enjoyed. The ending of this novel was definitely shocking. Torre writes a HEA that is far from typical. It is without a doubt a HEA, but it lacks the sense of 'perfect' that you find in so many romance novels. It is much more realistic. Also, the fact that the novel isn't over in the blink of an eye add to this realism. It was definitely a quick, racy read but it also took place over the span of a year. The fact that the characters took their time in their relationship really brings it all home.
The flashbacks to previous encounters really draw you in and heighten the excitement of the story. They also give you a deeper insight into the main characters themselves. You really get to see and understand how they're feeling and what they're thinking in certain situations. But Torre's character development doesn't end there. She takes the characters we've come to know and love (or hate) in the first two novels of the series and continues to make them grow. Some characters change based on their experiences, others we just get to know in a much more rounded way. This widely varied cast combines to create an unforgettable extended family.
Overall this was a great ending to the series. It was bittersweet at times, suspenseful at others, and hot throughout.