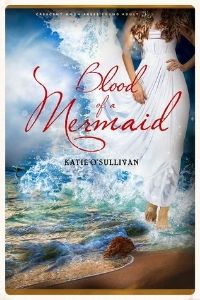 Title: Blood of a Mermaid
Series: Mermaids of Cape Cod #2
Published: May 15/14 by Crescent Moon Press
Synopsis from Goodreads:
Mermaid blood.
When Shea MacNamara fell into the ocean for the first time, he found he could breathe underwater. The son of a mermaid, the sea is in his blood. Literally. The best part of Shea's new life? His girlfriend Kae, who also happens to be a beautiful mermaid.
But darkness lurks under the sea. When evil mermen kidnap Kae, the king reminds Shea that having royal blood means making tough choices.
An Arctic dungeon, a fiery plane crash, the legendary halls of Atlantis…and narwhals?
Having mermaid blood just got a lot more complicated.
My Review:
O`Sullivan returns to the world of mermaids with the same tact and fervour that we loved from her in the first novel in this series. The merging of life in the water and life on land continues, while O`Sullivan`s descriptions paint a brilliant picture of it all. This novel is also rife with more intrigue and plotting than we`ve seen from her thus far. This well written & well developed novel will definitely capture your imagination. There is an intensity to this novel that is hard to miss. Blood of a Mermaid is a fun, captivating novel that will let your imagination soar.
O`Sullivan takes the characters that we met in the first novel of the series and allows them to grow into themselves as they age. The well-developed individuals that we came to know become even more so here, becoming who they were meant to be. We also get to meet some new characters, most of whom are quite approachable, and all of whom are well developed. This cast definitely tells a story in and of itself. Their interactions with one another heighten the story and provide insight into what has and may still happen.
This is an intrinsically interesting and very well structured YA novel that will appeal to sea-lovers of all ages. Although it could be read as a standalone with little problem, I`d recommend reading the series in order.