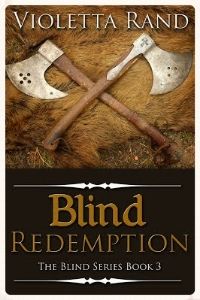 Title:
Blind Redemption
Genre: Historical Romance
The past is something he'd sooner forget…
Aaron McNally hates his past. Banished from his home for betrayal, he trades his tartan for a Norwegian title and sword to win back his honor.
She has a warrior's heart…
It's difficult for Kara Dalgaard to act like a lady, even when her father demands it. After the handsome Jarl Aaron McNally arrives at her home recruiting for the king's army, she's forced to participate in a cruel deception to humiliate him.
Drawn to his strength and passion, she quickly regrets what she's done. But duty comes before happiness.
Aaron wants a second chance at life—and Kara is everything he's dreamed of. But the past always has a way of catching up with you. Will Kara trust him or condemn him to a life of loneliness?
Excerpt:
When Kara entered the water, her toes curled. It was freezing. There was a flash of amusement on her companion's face as her teeth chattered uncontrollably. She swam several yards, then submerged herself, snorting and choking as she resurfaced. Water dribbled down her chin. Amelia wasn't as adventurous and stayed close to the shoreline. Kara treaded water as she admired the dark woods across the lake. Nothing pleased her more than being outside. Free to explore, free to do as she wanted without her brothers harassing her. She thought she saw movement, but realized it was nothing more than flickering sunlight and shadows. The pleasure of the moment dominated her senses. Nothing could ruin it.
As she floated on her back half dozing, the thundering sound of approaching horses shattered her daydream. She twisted around and searched wildly for Amelia who disappeared into the woods. Kara rushed to reach the shore.
Please …
But before her feet hit land, six riders surrounded Amelia who was now standing at the edge of the forest. Kara froze. She'd stupidly left her weapons by the horses. Now they had no chance of defending themselves or escaping. Two riders dismounted, striding toward her.
"Come out of the water," the largest demanded.
Unwilling to shame herself by allowing these strangers to see her naked, she crouched in the shallow water. "Turn around first."
"If you don't comply, I'll pluck you out like a wet rat." There was nothing friendly about this man. His companions chuckled.
Silence ensued as everyone seemed to contemplate Kara's next move. She'd not risk Amelia's safety by disobeying. But, what if she could swim to the other side of the lake and find help? Without clothing or money? Never. Swallowing her pride, she looked up. The dark features of the man who demanded she come out scared her.
"Now," he reminded. "If I wanted to rape you, you'd be on your back by now."
She was trying not to overthink things, but failing miserably.
"Drit," he yelled, then rushed her.
The moment his boots hit the lake, Kara filled her mouth with water, then shot up, spitting in his face. "Merciless beast."
He wiped his cheek, his hot gaze sweeping over her body. She refused to tremble. Animals like him thrived on fear. Without warning, Amelia intervened. She ran to beach, offering her cloak.
"Put it on and I'll rip it off you. Do as I bid, now, and get out of the water." He glared at Amelia. "You, move."
"I have a duty to my mistress." Amelia jutted her chin.
"Stay out of my way. Challenge me again and I'll punish you." He shoved her to the ground and then grabbed a fistful of Kara's hair. She struggled to free herself, only to be dragged to land, then into the forest next to her horses. The blanket and food Amelia had laid out was untouched. He pointed at the coverlet. "Sit."
Kara obeyed. Fear filled her mind and heart. "Who are you?"
His dark eyes sparkled like a wildfire. "Erling Solheim, an avenging god, I assure you."
"Devils aren't gods."
He slapped her face. "You'll learn quickly enough that I have no patience for a sharp tongue. Do as I tell you or you'll be bruised from head to toe before sunset. Understand?"
Kara nodded in comprehension.
"Where are your clothes?"
She pointed; her sword and shield were on the ground nearby. By Odin, she wished she had her weapon in her hands.
"Lying to me about your clothing? You need discipline already. Your gown, where is it?"
"I dressed as a boy for my protection." She sucked her cheeks in.
He gave her a smug smile. "I believe you. You're Erik the Bald's daughter."
Kara gasped. "How-"
"The trees have eyes and ears."
"And atrocious manners …"
My Review:
Political and emotional turmoil run rampant throughout this captivating novel. Rand's writing is subtly intense. She draws you back in time while painting this world before you in vivid Technicolor. I love the way that Rand looks at Norse mythology and how she works it into the story. She doesn't stop to explain things to her readers but rather shows them via the actions of the characters. It all combines into an amazing trip back in time.
I love that the male lead is far from perfect and has a sordid past. At the same time, he knows it and is trying to get beyond it by working on who he is. His hot headedness leads to some entertaining moments and makes him an intriguing alpha-type lead. Combine this with a very opinionated, utterly uncouth warrior princess and you have the perfect cast for this tale.
This is definitely the best in the series so far. I fell in love with the characters, the land, and the story. I'd recommend it to anyone who enjoys a historical romance, whether or not you've read the series. It can easily be read as a standalone, even if the background from the previous novels does give some extra context.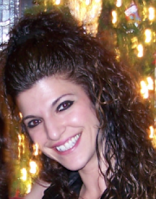 About the author:
Violetta Rand holds a bachelor's degree in Environmental Policy and a master's degree in Environmental Management. Serving as an environmental scientist in the state of Alaska for over seven years, she enjoys the privilege of traveling to remote places few people have the opportunity to see.
Violetta has been "in love" with writing since childhood. Struck with an entrepreneurial spirit at a young age, at five, she wrote short stories illustrated by her best friend and sold them in her neighborhood. The only thing she loves more than writing is her wonderful relationship with her husband, Jeff. She enjoys outdoor activities, reading whatever she can get her hands on, music, and losing herself in the worlds she enjoys bringing to life in the pages of her stories.