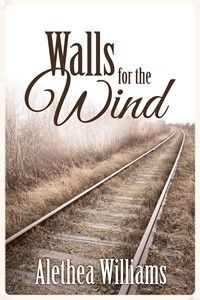 Title:
Walls for the Wind
Published: April 1/14
Length: 300pgs
Format: ecopy
Genre: Western Historical
Can an angel survive Hell on Wheels? When KIT CALHOUN leaves New York City with a train car full of orphans from the Immigrant Children's Home, she has no clue she might end up as adoptive mother to four children in rip-roaring Cheyenne, Wyoming. At twenty-two, Kit has spent most of her life in the Children's Home. Now she acts as one of America's first social workers, serving as liaison between the home, the courts, and the children of the streets.
Kit has little doubt she is easing the plight of the homeless children, until the transcontinental railroad begins to span the country and she is chosen to accompany orphan trains to distribute city children as fast as the rails are laid and farms are carved out of former Indian lands. Eastern cities are overrun with homeless children, their parents sick with consumption or dead of accidents and disease. The farmers who take in the children are required to sign a pledge to clothe, feed, and educate them in return for their labor. Is this distribution of urban children to rural environs beneficial, as the churches that sponsor the dissemination insist? Kit begins to have misgivings.
Family ties are deliberately broken so that single children will have a better chance of being placed. Even so, Kit swears an oath to a dying woman that she will keep her son and daughter together. But when their train passes beyond the last settlements in Nebraska, Kit is left with no other choice. HANNAH and HELMUT, and teenagers CONNIE and THOMAS, become Kit's sole responsibility.
The first time handsome PATRICK KELLEY lays eyes on Kit inside the Casement Brothers store where he works in Julesburg, Colorado Territory, he wants her for his own. But circumstances, and a spectral-looking demented gambler as well as Kit's certainty no one in his right mind would want her cobbled-together family, conspire to keep them apart. When Patrick and Kit and her brood ride Hell on Wheels into Cheyenne, they're all forced to leave behind everything they knew and find ways to survive and thrive in the raw new American West.
My Review:
This novel definitely shows the hard hitting realities of life in the western frontier. Williams transplants you into the time period via her writing style, tone, and storyline. Time does flow without breaking and jumping ahead or stagnating. This novel had a very mellow pace. I did, however, find that this lead to the story lagging at times. Even though there was a great deal going on in the story, I found that it meandered somewhat.
Williams develops her characters into individuals who fit where and when they live as well as their backgrounds, without simply being a stereotype. I found I could form an emotional attachment to some of the characters, while others remained aloof. The prim and proper demeanour of the main character shines through the author's writing. I enjoyed how the main characters were well developed individually before they ever met.
As a whole, the characters in this novel lived the adventure of a lifetime. It was an intriguing look at the railway expansion into the western frontier.
About the author:
Alethea Williams: Western history has been the great interest of my adult life. I've lived in Wyoming, Colorado, and Oregon. Although an amateur historian, I am happiest researching different times and places in the historical West. And while staying true to history, I try not to let the facts overwhelm my stories. Story always comes first in my novels, and plot arises from the relationships between my characters. I'm always open to reader response to my writing.