Author: Kris Austen Radcliffe
Series: Fate~Fire~Shifter~Dragon #1
Published: February 1st 2013 by Six Talon Sign Media LLC
Page Count: 337
Genre: Young Adult Urban Fantasy/Romance
Shelf: Review Copy
Book Blurb:
Contains Adult Sexual Content and some violent imagery.
Rysa Torres misses information. Loses concentration. Her attention problems randomize her life but she pushes forward anyway, doing the best she can—until monsters activate a part of her she didn't know she had.
As visions of the future whip inside her head, Rysa realizes the truth: She's a Fate.
And she will set fire to the world.
All her options explode. Her family ripped away, what little control she had destroyed, Rysa is left with one choice: Will she die to stop the coming flames, or will she allow the man and the dragon she loves to die in her place?
Games of Fate begins Fate ~ Fire ~ Shifter ~ Dragon, a new Urban Fantasy series with Strong Romantic Elements by Kris Austen Radcliffe. Set in the open spaces of America, the series takes Rysa and Ladon—and Ladon's companion beast, Dragon—through a landscape punctuated by unfamiliar creatures: Fates with the ability to see past, present, and future. Ghouls called Burners who devour with fire and acid. Shifters who shape much more than their bodies. And two dragons who speak with color and pattern.
It starts here, now, with one young woman's fight against a burning future—and against the death of the man she loves.
My Review:
As an author, Radcliffe is very good at laying things out in a manner that makes them clear to the reader while simultaneously keeping them captivation. These things are all brought to light in a very fluid storyline that captivates the reader from page one right to the very end. I also appreciate that this is a complete novel in and of itself. Although there is a prequel and there will be future instalments in the series this story begins and ends with itself, with a great deal of potential for future adventures.
There are some very unique supernatural elements in this story. I appreciate that this is a story about the fates with a big twist and that it is not based on Greek mythology. All of the history and mythology for this story is clearly laid out, bit by bit, within the novel itself allowing the reader to immerse themselves into the culture.
The characters are loveable and approachable. Radcliffe develops them slowly as more details are required, but they are none the less very well developed. Each of the major characters has a complete backstory that explains why they are who they are today. It also helps the reader figure out the intriguing plot twists that come about.
This was a phenomenal tale that draws the reader in and doesn't let go. Radcliffe incorporates action segments, heartfelt segments, and comedic segments that are wound together into an awesome story that keeps the reader entranced without relying on perpetual suspense.
As a child, Kris took down a pack of hungry wolves with only a hardcover copy of
The Dragonriders of Pern
and a sharpened toothbrush. That fateful day set her on a path traversing many storytelling worlds—dabbles in film and comic books, time as a talent agent and a textbook photo coordinator, and a foray into nonfiction. After co-authoring Mind Shapes: Understanding the Differences in Thinking and Communication, Kris returned to academia. But she craved narrative and a richly-textured world of Fates, Shifters, Burners, and Dragons—and unexpected, true love.
Kris lives in Minnesota with her husband, two daughters, an Handsome Cat, and an entire menagerie of suburban wildlife bent on destroying her house. That battered-but-true copy of "Dragonriders"? She found it yesterday. It's time to pay a visit to the woodpeckers.
Connect with the Author online:
Website:
http://www.sixtalonsign.com/novels/
Facebook:
http://www.facebook.com/AuthorKrisAustenRadcliffe
or my profile account, if you want to see the snarkier me:
http://www.facebook.com/kris.austenradcliffe
~ It's best to use Facebook to contact me.
Twitter:
https://twitter.com/KrisRadcliffe
Goodreads
: http://www.goodreads.com/krisradcliffe
and join her
Street Team
here: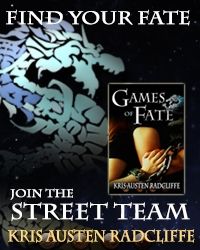 Grab the button code