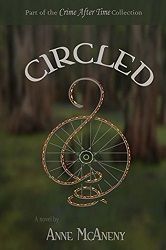 Circled by Anne McAneny will be FREE on Amazon from February 14 - 16/16.
I gave this novel 5 stars and can't wait to read it again.
Be sure to get your copy while you can!
A fire ignites a whirlwind of action and accusation in a swamp town that hasn't seen excitement since the big lottery win twelve years ago. Little does reporter Chloe Keyes know that when she sniffs around for clues, she'll end up facing her own demons while unsettling the very foundation of her hometown.
Chloe starts her day by pulling a gun on two intruders—and things only go downhill from there. Driving to Boyd's General for her daily caffeine fix, she finds the place ablaze. When the flames die down, she uncovers evidence that points to a dire fate for her missing childhood friend, Hoop. He disappeared twelve years ago, on the same day his girlfriend was struck and killed by a car. The events have left a dark mark on Chloe.
Over the next two days, strange occurrences pile up: Chloe's neighbor is found floating and bloated in Black Swamp; the head of a cosmetics conglomerate is arrested by federal agents; phone records point to a dead girl making calls; and a handsome stranger mystifies everyone he encounters. Through it all, the promise of a spectacular magic show captivates the local residents.
Close calls with gators, crossbows, and armed felons lead to a startling conclusion, complete with illusion, chicanery, and the most divisive trick of all: cold, hard truth. Will Chloe's murky existence finally be clarified, or will she succumb to the demons that haunt her?
Book Links