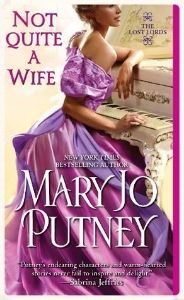 Title:
Not Quite A Wife
Series:
Lost Lords #6
Author:
Mary Jo Putney
Published:
Aug 26/14 by Kensington Zebra
Length:
352pgs
Format:
ecopy
Genre:
historical romance
Shelf:
netgalley
Rating:
★★★★
Synopsis from Goodreads
Marry in haste, repent at leisure. James, Lord Kirkland, owns a shipping fleet, half a London gaming house, and is a ruthlessly effective spymaster. He is seldom self-indulgent. . .except when it comes to the gentle, indomitable beauty who was once his wife.
Laurel Herbert gave James her heart as an innocent young girl--until she saw him perform an act of shocking violence before her very eyes. That night she left her husband, and he let her go without a word of protest.
Now, ten years later, a chance encounter turns passionate, with consequences that cannot be ignored. But as they try to rebuild what was broken, they must face common enemies and a very uncommon love. . ..
My Review:
This was a rather enchanting tale. Putney developed her unique and well put together storyline in a captivating manner. Readers are drawn to both the romance and the suspense of this novel. She paints a brilliant picture of London and Bristol in the 1800s, transporting readers back to that time.
Putney's early character development is admirable. She brings them to life in a natural yet complete manner that allows you to really know them. The mix of past and present in the story also allows Putney to develop them in a very open fashion. I appreciated seeing the main characters take ownership for their actions. It was refreshing to see individuals admit where they'd failed, while attempting to be a better person. The supporting cast was also admirable. I quite the way that they brought the whole story together into the picture of complete lives, rather than simply a snapshot of a relationship.
I thoroughly enjoyed this novel. It was my first foray into Putney's work but won't be my last. I also appreciated the fact that it can be read as a standalone, even though it is well into the series.